ISO 9001 : 2015 Certification
Improve overall operational efficiency and increase customer satisfaction
ISO 9001 is the world's most recognized quality management standard used by millions of organisations all over the world to continuously improve performance. By becoming certified, your organisation is making a statement about your commitment to continually and consistently meet the expectations of your customers through the improved efficiency and effectiveness of your business processes.
What are the benefits of ISO 9001?
For some, implementing a quality management system is about attracting new clients or opening doors to new markets, for others, it provides a blueprint for internal efficiency and effectiveness.
Whatever your initial motivation, certification to ISO 9001:
Places the customer at the heart of your business practice and creates a higher level of customer satisfaction

Improves your financial performance by winning new business, driving expansion and retaining your existing clients

Demonstrates your competitive edge through the existence of an effective quality management system that delivers compliance to a proven international standard

Positions you more competitively for tender and new market opportunities and often is an essential requirement

Boosts productivity, drives down costs and achieves greater consistency through improved operational performance

Motivates and engages your employees with more efficient internal processes, leading to a more productive, confident and driven workforce

Develops your risk management processes. Problems are more easily avoided with greater consistency and traceability of your products and services
Is it for me?
ISO 9001 can be used by any organisation, large or small, regardless of its field of activity or sector.
What is the process?
Simple process to certification.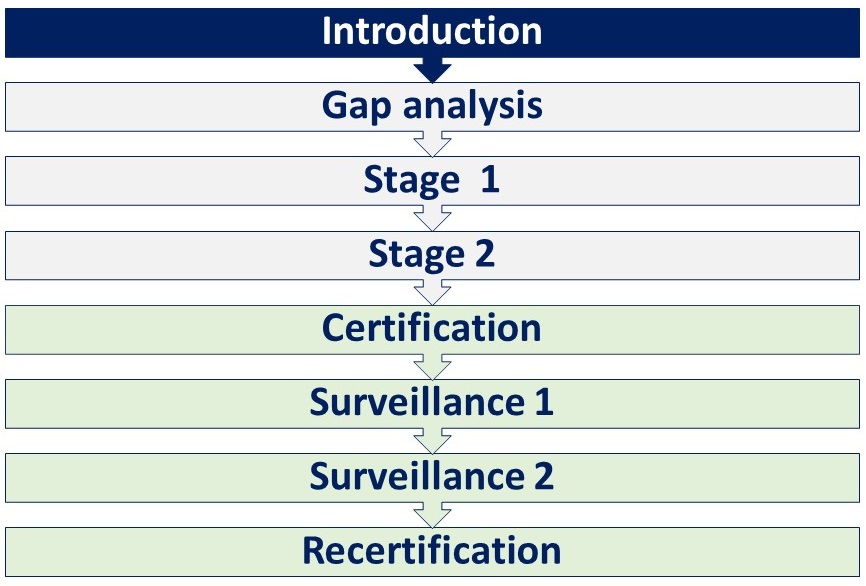 Certification Process
Next steps?
Fill in your application form to get a quote.
Transfer your certification
Find out how to transfer your certification to ACM Malaysia.
A simple transfer process
Looking to change your certification body? If you have an existing UKAS accredited ISO certification, we can transfer it over to us. It's quick and easy, with no delays. Here's what happens:
1. Submit your application form with your current valid certificate with your last audit report including evidence of closure for any NCs raised within.

2. On review and approval of the eligibility to transfer, one of our customer service team will contact you to confirm details and provide you with a

formal quotation

for the next audit according to your existing cycle.

3. On successful outcome of your audit, you receive your audit report, new certificate and the certification logos.
Get a quote
If you're interested in transferring your certification to ACM Malaysia, just get in touch with our team today. We'll have a chat about your current certification, and what you'll need in order to make the switch. We'll also be able to provide you with a free quote.
Email: contact@acmiso.com.my