ISO 22301 : 2019 Certification
The standard was launched worldwide in 2012 as part of the ISO series of management system standards. It sets out the requirements for a Business Continuity Management System (BCMS). Deadline for migration to be done before November 2022, all certificates to the 2012 version would ultimately lose their validity by then.
Improve how you prioritize and manage risks to your business
Creating a business continuity management system that follows ISO 22301 will help organisations be better prepared for a potentially disruptive incident. Having a structured and tested approach to this will help with continued trading during difficult times and minimize time getting back to business as usual.
Benefits of a business continuity management system
Identify and manage both current and future threats to your organisation

Take a pro-active approach to minimizing the impact of disruptive incidents

Keep the organisation's key areas up and running during major incidents

Demonstrate resilience to your customers and suppliers
Is it for me?
The risks you identify will be bespoke to your organisation. The standard helps you build a management system to identify, manage, prevent and communicate risk – it is therefore applicable to all types of organisations whether large or small or in the private or public sector.
Organisations who utilize ISO 27001 Security Management as part of their wider risk management framework would be well placed for integration into a business continuity management system.
What is the process?
We will audit your plans to manage any likely disruption, who is impacted by these, how you have tested your plans and improved them. We will also review your ongoing evaluation of risks, likely impact, plans for communication and your commitment to managing risk.
The process is relatively straight forward and follows a stage 1, stage 2 and annual surveillance model - familiar to those for example who have worked with ISO 9001, 14001, 27001 or 45001. The number of surveillance visits you receive will be dependent on whether your area of operation is considered to be low, medium or high risk.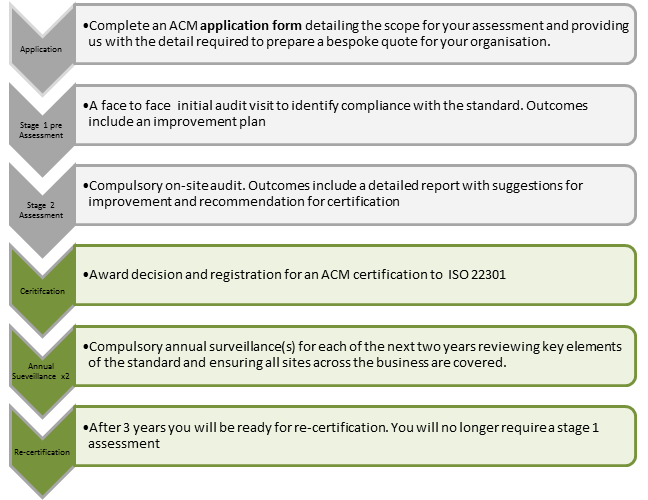 Certification Process
Next steps?
If you would like to discuss how you might proceed please email contact@acmiso.com.my.
If you would like an initial quote please fill in your application form.
Transfer your certification
Find out how to transfer your certification to ACM Malaysia.
A simple transfer process
Looking to change your certification body? If you have an existing UKAS accredited ISO certification, we can transfer it over to us. It's quick and easy, with no delays. Here's what happens:
1. Submit your application form with your current valid certificate with your last audit report including evidence of closure for any NCs raised within.

2. On review and approval of the eligibility to transfer, one of our customer service team will contact you to confirm details and provide you with a

formal quotation

for the next audit according to your existing cycle.

3. On successful outcome of your audit, you receive your audit report, new certificate and the certification logos.
Get a quote
If you're interested in transferring your certification to ACM Malaysia, just get in touch with our team today. We'll have a chat about your current certification, and what you'll need in order to make the switch. We'll also be able to provide you with a free quote.
Email: contact@acmiso.com.my