ISO 45001 : 2018 Certification
Reduce workplace accidents - safeguard your workforce and the public
ISO 45001 is the internationally recognized standard for best practice in occupational health and safety management. It can help you introduce the policies, procedures and controls needed for your business to achieve the best possible workplace health and safety procedures and working conditions for your employees, aligned to internationally and locally recognized best practice.
What are the benefits of ISO 45001?
Health and safety legislation can change on a daily basis. It can be both challenging to keep pace and costly not to. The welfare and safety of your employees, customers and other stakeholders is paramount and therefore implementing a standard that ensures you have systems in place to keep abreast of your legal obligations and minimize workplace risks, is crucial.
Certification to ISO 45001:
Improves your ability to stay up to date with relevant legislation and reduces the likelihood of non-compliance, prosecution and/or fines;
Helps you reduce the amount of workplace incidents and accidents; your business becomes a safer place to work;
Provides reassurance to your employees, customers and the general public that you are committed to ensuring their safety at all times.
Is it for me?
Whilst particularly prevalent within construction and manufacturing, ISO 45001 is highly applicable to all other businesses and organisations, large or small, regardless of its field of activity or sector.
What is the process?
Simple process to certification.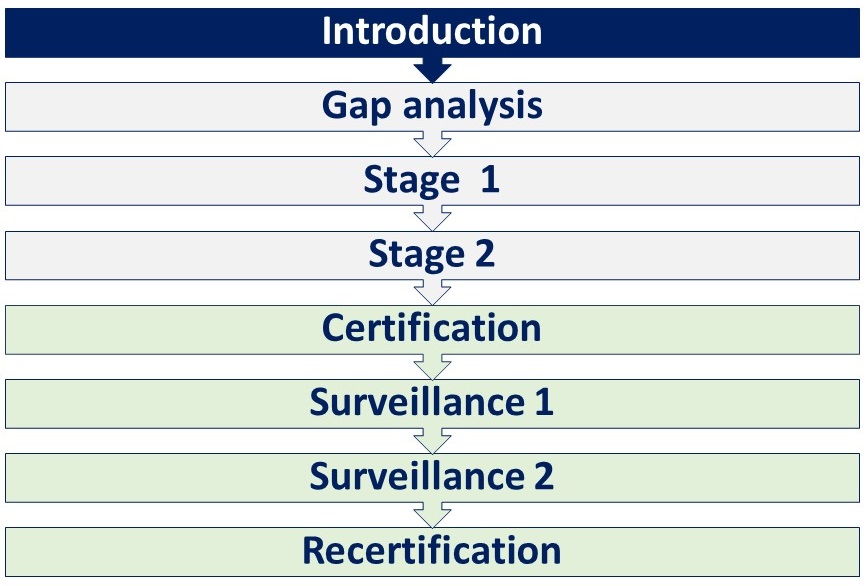 Certification Process

Next steps?
Fill in your application form to get a quote.
ISO 45001 : 2018 Migration Process
Many organisations have historically used the standard, OHSAS 18001:2007, to help manage occupational health and safety. However this standard is now being replaced by an international standard, ISO 45001:2018. Organisations already holding OHSAS 18001 will need to undertake a migration to the new standard. The process below will help you to understand what will be required:
To find out more details and get practical information on the Migration process, book on our Migration to ISO 45001:2018 workshops, please click here to book your place.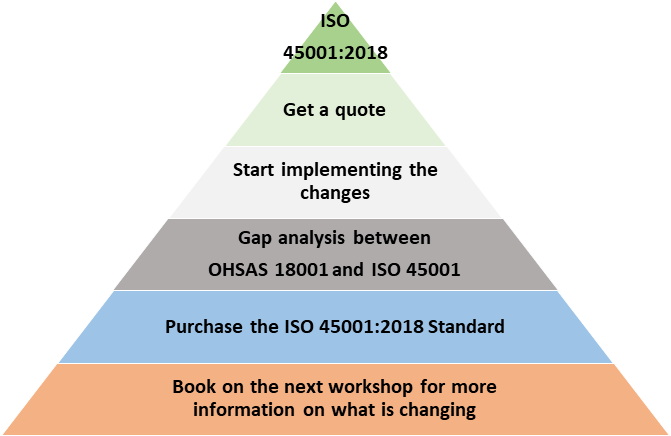 Migration Process
Benefits of ISO 45001:2018:
International standards

Easier to integrate with other standards like ISO 9001:2015 and ISO 14001:2015 (Annex SL).

Aligned with other national Health and Safety standards to avoid confusion.
Possible impacts to clients:
Change of auditor(s) due to new competency framework

Increase in time required to complete your forthcoming audits, this is due to the additional requirements around reporting of incidents or breach of regulations

New complexity levels associated with sectors

Members of public present on site i.e. hospitals, schools, etc.
Useful Information:
Transfer your certification
Find out how to transfer your certification to ACM Malaysia.
A simple transfer process
Looking to change your certification body? If you have an existing UKAS accredited ISO certification, we can transfer it over to us. It's quick and easy, with no delays. Here's what happens:
1. Submit your application form with your current valid certificate with your last audit report including evidence of closure for any NCs raised within.

2. On review and approval of the eligibility to transfer, one of our customer service team will contact you to confirm details and provide you with a

formal quotation

for the next audit according to your existing cycle.

3. On successful outcome of your audit, you receive your audit report, new certificate and the certification logos.
Get a quote
If you're interested in transferring your certification to ACM Malaysia, just get in touch with our team today. We'll have a chat about your current certification, and what you'll need in order to make the switch. We'll also be able to provide you with a free quote.
Email: contact@acmiso.com.my