ISO 27001 : 2013 Certification
Secure your data and protect your corporate assets
ISO/IEC 27001 is an internationally recognized best practice framework for an Information Security Management System (ISMS) which helps organisations manage the security of valuable assets such as financial data, intellectual property, employee details and information entrusted by third parties. By implementing an ISMS, potential risks can be recognized and appropriate controls introduced to help reduce and manage risk appropriately across people, processes and IT systems.
The ISO 27001 standard covers all formats of company information providing a structured framework for reducing and eliminating the possibility of an information security breach whether through attack, error or natural disaster.
What are the benefits of ISO/IEC 27001?
Data breaches have the potential to cause severe reputational harm to your business and can result in significant unnecessary expense. By implementing the ISO/IEC 27001 standard, you can be confident that access to data is properly authorized and sensitive company information remains well managed and secure. An ISMS will help safeguard the accessibility, confidentiality and security of your information as well as ensuring legal compliance.
Certification to ISO/IEC 27001:
Reduces the possibility of a potential security breach and mitigates against unacceptable security risks
Keeps your valuable corporate information secure, protecting against the loss of availability, confidentiality and integrity.
Enhances your company's ability to respond and recover from any data breach and reduces the potential costs associated with breaches or loss of data
Positions you more competitively for tender and new market opportunities
Builds your reputation as a responsible company to do business with and, if managing information on behalf of others, demonstrates you are securely managing data to an internationally recognized standard
How can ISO 27001 help organisations comply with the GDPR (General Data Protection Regulation)?
The Regulation states that having a recognized information security certification, such as ISO 27001, will be a good way for an organisation to demonstrate that it protects its information assets using best-practice information security measures.
Find out more on how ISO 27001 can help you with GDPR Compliance. You can find out more details by attending one of our free ISO 27001:2013 workshops.
Is it for me?
ISO/IEC 27001 can be used by any organisation, large or small, regardless of its field of activity but is particularly suitable where the protection and confidentiality of information is vital, such as in the public finance, health, and IT sectors. The standard is also relevant for organisations who manage information on behalf of others as it can be used to reassure customers that their information is being protected in accordance with an internationally recognized standard.
What is the process?
Simple process to certification.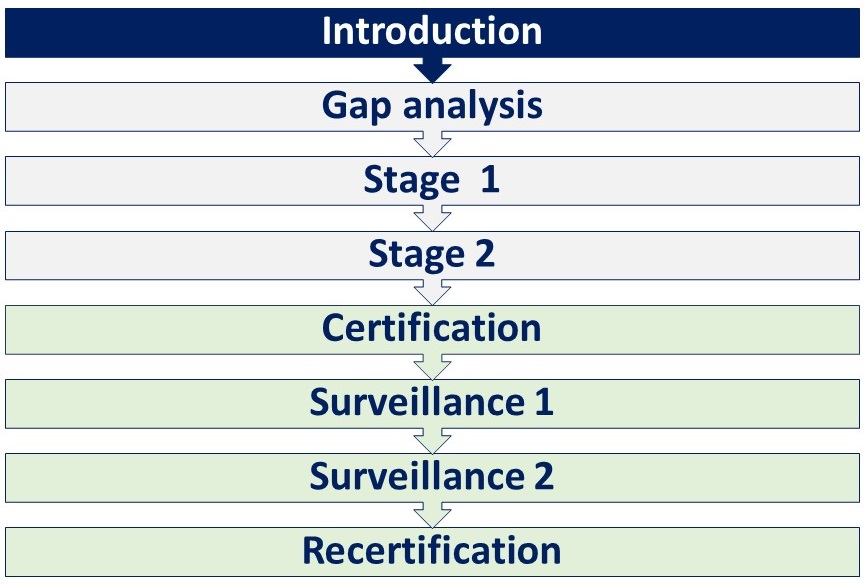 Certification Process
Next steps?
Fill in your application form to get a quote.
Transfer your certification
Find out how to transfer your certification to ACM Malaysia.
A simple transfer process
Looking to change your certification body? If you have an existing UKAS accredited ISO certification, we can transfer it over to us. It's quick and easy, with no delays. Here's what happens:
1. Submit your application form with your current valid certificate with your last audit report including evidence of closure for any NCs raised within.

2. On review and approval of the eligibility to transfer, one of our customer service team will contact you to confirm details and provide you with a

formal quotation

for the next audit according to your existing cycle.

3. On successful outcome of your audit, you receive your audit report, new certificate and the certification logos.
Get a quote
If you're interested in transferring your certification to ACM Malaysia, just get in touch with our team today. We'll have a chat about your current certification, and what you'll need in order to make the switch. We'll also be able to provide you with a free quote.
Email: contact@acmiso.com.my